Dear Brother Mark Master,
Well what a topsy-turvy world we live in at present!
We have just begun to get used to being back together again and now we are faced with the uncertainty of yet another Covid variant, rising infections and the real prospect of more restrictions. What this will mean for our ability to meet in the New Year we don't know and cannot guess! Let's hope that hospital cases don't rise steeply with Omicron and it proves to be a more infectious but less severe form of the virus.
I have really enjoyed the autumn back in your company. It has been wonderful to see so many members present and enjoying themselves at our meetings. I said in my last message that we are all a little rusty on the ritual and workings as you might expect after so long away but the friendship and enjoyment has been as good as ever.
We had our 2021 Provincial Grand Lodge Meeting on Saturday the 30th of October in Park Street. It was wonderful to be able to meet with you all and make those delayed appointments and promotions in person. We had a good attendance in Number 1 Lodge Room, comfortably full but not overcrowded and I enjoyed being able to talk to you all at the after-meeting. We are planning to move future Provincial Grand Lodge meetings from March, which comes right in the middle of our masonic season, and to use the May slot which the Craft have decided to vacate. The 2022 PGL is therefor planned for Saturday the 21st May. The venue will probably be Park Street again depending on numbers. I do hope that we will be clear to hold it by that time and that as many of you as possible come and support the new set of active officers and promotions who will be appointed on the day.
Brother Mike Page and his much better half, Lynn, have been working on the social calendar for 2022 and you will have seen the flyer which has been distributed for the Mark Weekend away in Winchester on the weekend of the 9th and 10th of April. It should be a great weekend, like all our Mark get togethers, please come along and enjoy the company but get your booking in early as we don't have much capacity to extend our current room bookings.
Keep checking the Bristol Mark web site for all the events and latest news.
Brethren I do wish you all a very happy and healthy Christmas with your loved ones and I hope that 2022 brings you all a happy year, an end to the pandemic and the beginning of a return to normal life for us all.
With kind fraternal regards,

Stephen Rawlings
PGM Bristol
The final draw for this year's Mark 200 club took place earlier this week.

The winners are;
£100 – RW Bro Stephen Rawlings
£50 – W Bro Paul Hankinson
£25 – Bro Timothy Churchyard
Thank you all for your support.
The Province now has a standardised Provincial Tie; it maintains the basic black background with white polka dots, but with the addition of the Provincial Motif at the bottom of the tie. The dots and the motif are embroidered, not printed.
This is a 'one-off' design and will remain our Provincial Tie.
Ties cost £20 each and can be ordered from our Provincial Grand Charity Steward Brian Hamley, who shall be attending most of the forth-coming Lodge Installations and will have ties available on each visit to Park Street.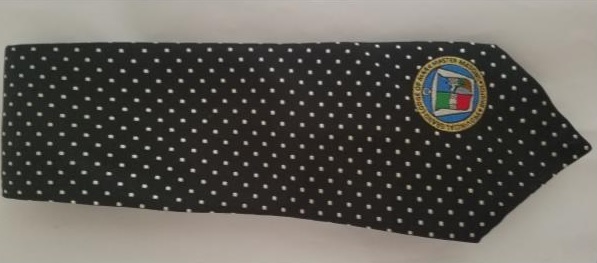 Dear Brother Mark Master,

I hope that you and your families are keeping well and safe. Penny and I are fine and, like many of you, we have had both our jabs. We are both pleased to be able to mix a little more, especially with the family. We can only hope that the relaxation of restrictions progresses as planned and we can all really look forward to some time together in the autumn.
We held a Provincial Zoom get together on the 13th of March to mark the date of the postponed Provincial Grand Lodge, which was very well attended, and I thank all of you who took the time to be with us. I can now give you an update on this year's Provincial Grand Lodge meeting which we are now planning to hold in Park Street on Saturday the 30th of October to welcome you all back and to congratulate those who were appointed or promoted last year but have nothad the chance to enjoy their new ranks. Further details to follow but we anticipate a morning meeting in the Hall followed by lunch.

I'm pleased that the Virtual Business Meetings have been working well across the lodges. The work done in these will help us be well prepared for an autumn restart.
Don't forget to visit the Provincial Mark Website and keep up to date with what we have been doing for local charities. We are giving donations every month to local groupsand helping as much as we can so, please do let us know if there are any which you think would deserve our support.

A number of us, including myself, are signing up for the Tour de Bristol cycle ride in support of St. Peter's Hospice on the 27th of June. We would appreciate as much company as possible so please if you feel that you can join in do contact our Provincial Charity Steward, W.Bro. Brian Hamley and get the details of how to sign up. At least it will give you the chance to laugh at me struggling up the hills!
You will have heard that Fredy has started his evening meals and lunches again and tables of 6 are bookable with him. The Hall will stay open through the summer months this year to allow us to meet again as soon as the guidance allows, and as I said before, we are planning some informal coffee mornings or lunches to start to get us all back together and used to getting out and mixing with people. Details to follow.
I hope that you and your families keep safe and well. As always please let us know if you hear of a brother who is in difficulties and we will do all we can to help. I am really looking forward to seeing you all again this autumn.
With kind fraternal regards,
Stephen Rawlings PGM Bristol
Grand Rank Appointment 2021

Worshipful Brother John Allen
It is with great pleasure that we can announce that W.Bro. John Allen has received a first Grand Rank appointment as Past Assistant Grand Director of Ceremonies.
Bro. Richard McGill Riding A Freewheelers EVS Blood Bike

Bro. Richard McGill of Goodwin Lodge recounts details of his activities with Freewheelers EVS.

Freewheelers EVS is one of the longest established Blood Bike groups having operated for 30 years. The patch covered is 1,674 square miles, which includes Bristol, Bath, Taunton and the surrounding towns and villages.

Operating out-of-hours cover 365 days a year on weeknights from 7pm to 7am, and for whole weekends from 7pm Friday to 7am Monday, five liveried Blood Bikes and a Coordinator are always on duty to provide this life-saving, life-changing service. One of the bike duties is dedicated to the two air ambulances, there is a bike duty for each of the North, West and East patches as well as a relief bike duty to cover any gaps.

Approximately 196,000 miles and >6,300 jobs are completed annually by Freewheelers EVS alone. Items carried include blood, COVID & other pathology samples, medication, surgical equipment and breast milk. The only limitation is that it be of a medical nature and can physically fit on a bike.

Since 2015 support is also provided to the Great Western Air Ambulance and Wiltshire Air Ambulance, ensuring they have blood on-board the aircraft to best treat trauma patients in their expert care.

Joining the Freewheelers
I first became aware of the Freewheelers from talks given at various Masonic and other social evenings as well as conversations with other riders in the Cheddar Valley Advanced Motorcyclists (a local branch of the Institute of Advanced Motorcyclists (IAM)). There is a rigorous process for inducting new riders which included re-taking my IAM riding test, an observed ride, 2 positive references, induction training and a tour of the pickup and drop-off locations in our patch.

For 9 months I was a probationary rider wearing a "newbie" hi-viz vest to demonstrate competence before being confirmed as a full rider.

Supported by the Grand Lodge of Mark Master Masons
I recently collected the blood bike for a shift and was pleased to find that it was almost brand new, having been donated by the Grand Lodge of Mark Master Masons. As a Bristol MMM, I found extra pride in riding this lovely BMW R1250RT for my shift.

Some of my more memorable jobs
I still remember when I was woken at 2:30am to pick up a filter from the Hospice for a terminally ill boy in the Children's Hospital for his palliative care. I was out of the house in less than 10 minutes and the job was completed within an hour.

Another job was to pick up some meds from the Oncology Centre for delivery to the patient's house down a very dark and isolated lane somewhere between Huntspill and the Bristol Channel. I was touched by how grateful the patient was to receive the meds. On my way back, I reflected on how remote the patient was and how few alternatives were available to her.

We use a relay system when something needs to move further than our area. One that stands out took place at 3:15am at the Morrison's Petrol Station, off the A370, at Worle. I was so impressed at how both of us arrived within a couple of minutes of each other and how pleased they were at the NHS BT Centre when the bloods, that had started their journey in Plymouth, were dropped off.
I was genuinely surprised and touched when I rode under a motorway bridge around 8:30pm on a Thursday evening and saw a bunch of people on the bridge clapping me as part of the NHS!

These are some examples of situations which play out up and down the country every night of the year thanks to our dedicated band of Blood Bikers. The miraculous part, though, is that this out-of-hours courier service is free of charge to the NHS, these Blood Bike groups are charities funded entirely by donations and every member is an unpaid volunteer.

Freewheelers EVS is based 100 percent on volunteers and funded 100 percent by donations. If you would like to volunteer as a rider, coordinator and/or a fundraiser, please visit www.freewheelers.org.uk for more information. Our website also outlines various methods of making a donation or you can contact us if you wish to fund us directly to avoid charity website fees.
V. W. Brother Basil Rex Woodward PGJD

It is with much sadness and regret that we have been informed of the sudden passing to the Grand Lodge above of Very Worshipful Brother Basil Rex Woodward on 21st December 2020 aged 89 years.

Basil was Initiated into the St. Stephen Lodge 3145 in September 1961, exalted into the Chapter of Charity in April 187 in 1965, he served the Province as Provincial Senior Grand Warden in 1988 and was promoted to Past Junior Grand Deacon of the United Grand Lodge of England in 1998.

He was Advanced into the Baldwyn Mark Lodge, no 183, on the 5th April 1969 and completed 50 years in the Mark Degree in 2019. Unfortunately, due to his failing health he was never able to join us to celebrate the achievement. He was elevated into the Harris Lodge of Royal Ark Mariners on the 20th of January 1982. He gained his first appointment to Grand Rank in 1985 as an active Grand Steward. He received a final promotion in 2005 to Past Grand Junior Overseer and became a Very Worshipful Brother.

Basil was a member of many other degrees and orders, but his greatest love and masonic achievement was to be Installed as the Most Eminent Grand Superintendent of the Camp of Baldwyn, serving as its Provincial Prior and Very Illustrious Inspector General 33E for the District of Baldwyn for over 24 years.

In his working life Basil was a Professional Architect and became responsible for the upkeep and maintenance of the fabric of Freemasons Hall, 31 Park Street, Bristol for many years.

He will be very sadly missed not only by the Province of Bristol but by Masonry in General.
December 2020 Charity Report

Brethren

Firstly, may I wish all of you and your families a warm and safe Christmas followed by a very different New Year, when we will hopefully be able to fill Park Street again.
The Christmas Appeal
I wish to thank you all for your generous support, as we have received nearly £1500 in donations. The North Bristol Food Bank and the 'Full Circle Charity', which supplies food and cares for Children in the St. Paul's area of Bristol, have each received £500. The remaining £500 which arrived this week, will be handed over to another suitable worthy Charity. If anyone has a suggestion for a Charity that we could support, please give me details and I will be happy to make the contact.
Thanks to every one of you and your families for the support you have given to our Charitable donations since March 2019, we have collected over £12,000! Most of this money has been distributed to suitable local Charities.

However, we still have sufficient funds to support a Brother in need. If you are in need or know of a Brother requiring help, please contact your Lodge Almoner or the Provincial Almoner, such communications will always be handled confidentially.

200 Club
In January we will relaunch the 200 Club, and I hope many of you will subscribe with the hope of winning, and in the knowledge that we are helping local Charities.
Tour de Bristol
Early in 2021, I will be circulating details of a sponsored cycle ride for those of you who are keen cyclists, which will support St. Peter's Hospice.

Yours Sincerely and Fraternally

W Bro Brian Hamley, Provincial Charity Steward
Dear Brother Mark Master,

I hope that you and your families are keeping well and safe. Penny and I are OK but rather fed up with the restrictions which we are all suffering.

As you all know the plans to reopen the Hall through the autumn fell foul of the November Covid spike. Unfortunately, Penny and I missed out on the chance to enjoy one of Fredy's evening events. I understand that the two which were held were very successful and I'm hoping that the New Year will give him a chance to start them again.

Unfortunately, the December Royal Ark Mariner Grand Lodge meeting at which the appointments to Royal Ark Mariner Grand Rank were due to be made did not go ahead. However, the ranks were still awarded, and I congratulate Past Commander Bob Bates, on his appointment to Royal Ark Mariner Grand Rank. Well-deserved Bob, thanks for all your work on the Mark Charities over many years, and hopefully you will be able to wear the new collarette soon!

I would ask each lodge Secretary and Scribe, and that includes me in Dunckerley RAM, to progress holding Virtual Business Meetings for your lodges to confirm the business which should have been done by now, like election of officers and approval of minutes and accounts, so that each lodge is ready for a restart which will come, hopefully, in the Spring or early Summer. Dunckerley Mark Lodge and Brunswick Mark Lodge both held their Virtual Business Meetings on the 15th December. I joined Brunswick Mark for theirs and I congratulate them on how well it went. I shall be proposing one for Dunckerley RAM in January.

The guidance was sent out to all Secretaries and Scribes recently and is pretty clear but if you have any queries our Provincial Grand Secretary will be able to answer your questions. So, get them organised.

Please keep visiting the Website and keep up to date with what we have been doing for local charities. We are giving donations every month and helping as much as we can. As you know we have received a number of sizeable donations from the Mark Benevolent Fund in London for local groups and we can ask for more if any of you have ideas for local charity groups who might benefit, particularly if they are involved with the Covid-19 battle! As I said in my last message, to maintain our current level of giving we do need your help and I would ask you seriously to consider a monthly donation as a number of us are doing or taking more numbers in the 200 club, it will all help.

My congratulations to W.Bro. Brian Hamley, who completed his 45-mile charity cycle ride to Gloucester and back to support St. Peter's Hospice which has suffered financially through the crisis with the closure of the Charity Stores. His efforts raised over £1,000, a tremendous total. He has been absolutely magnificent through this period in raising monies, developing our charitable giving and supporting those in the community in need. Consequently, I was delighted to attend a Grand Lodge Zoom meeting on the 15th of this month when the Grand Master selected 18 Mark Masons from across the country who had given outstanding service through the pandemic to receive his special award of merit. W.Bro. Brian was selected by him to receive an immediate Grand Lodge first appointment as Past Grand Standard Bearer. Congratulations Brian very well deserved.

My thanks to all of you who joined us for our Virtual Provincial Grand Lodge meeting in November. We had over 60 with us, which for a small Province was a great achievement and surprised those
who joined from Grand Lodge. We held another 200 Club Draw after the meeting and drew the final 3 prizes for this year. Please support it again in 2021, the need for support in the community is not going to stop with vaccination!

I'm really hoping that we can start to meet again in the late spring or early Summer, but the future doesn't seem much clearer than it did earlier in the year and a second winter spike may keep us all locked down for many more weeks.
May I wish you all some joy and celebration this Christmas, perhaps we will all be able to party at Easter! Enjoy yourselves as much as you can and keep in touch with each other. I hope that you will raise a collective glass with me at New Year and say good riddance to 2020 and hope for better things in 2021.

Whatever happens I hope that you and your families keep safe and well. As always please let us know if you hear of a brother who is in difficulties and we will do all we can to help.
Finally, don't forget W.Bro. Tony Baker's talk on the evening of Monday the 21st. It's called 'The Fourth Step' and will be interesting and thought provoking as all Tony's talks are. It will also give us a chance to wish each other the best at Christmas and pray for a Happy New Year.

With kind fraternal regards,

Stephen Rawlings
PGM Bristol
R. W. Brother Philip James Patrick PGJW
1948 - 2020
Dear Brethren
As many of you know our Right Worshipful Brother Philip James Patrick passed to the Grand Lodge above in August.
His death was a great shock to us all and, as I have promised you , we will hold a suitable memorial for Phil once this dreadful virus allows us to meet again.

Numbers at his funeral were of course limited and not all of you could log on to the stream link, so I thought that we should post this eulogy on our web site as a farewell to a tower of a man, a Mark Mason and a brother.
Phil began his masonic career in Ealing when he was initiated on the 25th November 1972 and would have served 50 years in masonry in 2022.
On moving to Bristol he joined the Beaufort Lodge and became a member of the Province of Bristol and a true Bristol Mason.

He joined the Mark Degree in 1987 being advanced into the Baldwyn Mark Lodge on the 21st of January of that year.

He was Worshipful Master of the Beaufort Lodge in 1983 and 2007 and Worshipful Master of the Baldwyn Mark Lodge in 1993 and Worshipful Commander of the Dunckerley Lodge of Royal Ark mariners in 2002.

He soon gained recognition in the Province and became Provincial Director of Ceremonies in both Craft and Mark Degrees. His dedication and hard work were recognised by the rulers in London and he was awarded Grand Rank in the Mark Degree in 1997 and in the Craft Degree in 2012.

He became Deputy Provincial Grand Master in the Mark Degree in Bristol in 2003 a role which he held with pride and with honour for 4 years.

His masonic career culminated in June 2019 when his dedication to the Mark Degree brought him the high honour of promotion to Past Grand Junior Warden and the title of Right Worshipful Brother which he so richly deserved.
Eulogy given at the funeral by the PGM
Philip James Patrick has been my great friend and regular companion in masonry for over 30 years and I am still, like many of us, completely shocked and saddened by his sudden loss.
I have been asked by his family to give you all, masons and non-masons alike, a feel of the man as he was seen by his brethren in masonry and I am honoured to do so.

Before I begin I am sure that you have noticed that I still have the lockdown hair cut or lack of haircut. This is not only because my wife likes it, reminding her of the 1980's when I had hair, but chiefly because it annoyed Phil so much. I'm waiting for a loud voice from above saying "Get your hair cut Rawlings".

Phil began his masonic career in Ealing when he was initiated on the 25th November 1972 and so he would have served 50 years in masonry in 2022.

However, the fates brought him to Bristol to live and on the 6th January 1976 he joined the Beaufort Lodge and became a member of the Province of Bristol and a true Bristol Mason.

He embraced his new home with energy and pride and joined the Mark Degree in 1987 being advanced into the Baldwyn Mark Lodge on the 21st January of that year. I won't bore you all with the dates of his roles in all the lodges and degrees which he joined. Suffice it to say that his dedication and commitment to masonry was huge and he became a vital part of all the lodges and orders to which he belonged.

He soon gained recognition in the Province and became Provincial Director of Ceremonies in both Craft and Mark Degrees. His dedication and hard work were recognised by the rulers in London and he was awarded Grand Rank in the Mark Degree in 1997 and in the Craft Degree in 2012.

He became Deputy Provincial Grand Master in the Mark Degree in Bristol in 2003 a role which he held with pride and with honour for 4 years.

Phil and I have had some wonderful times in masonry, culminating in that June day in 2019 when his dedication to the Mark Degree brought him the highest honour and I was privileged to see him promoted to Past Grand Junior Warden and receive the title of Right Worshipful Brother which was so richly deserved.

Our Provincial Director of Ceremonies, Ashley Hawkins, remembers the first time that Phil attended Dunckerley Mark Lodge following that Promotion.

I should explain at this point that at the start of each masonic meeting those brethren who have attained Grand Rank are given their full titles and saluted by the members present and this we call receiving 'honours'.

Ashley recalls: "As I walked up to the pillars to give the honours I could see the rising anticipation on Phil's face and when I came to announce him, his smile got broader and broader, culminating into a huge beam at the point that I emphasised the word "Right" in Phil's new title.

His pride was so evident, and it obviously meant so much to him to receive that honour, one that was richly deserved and a reward for his service to the Mark Degree."
However, not all the anecdotes which I have received have been associated with high honours: Richard Serle from Beaufort Lodge has another view of Phil's masonic contributions:
I should point out that I have had to adjust, shall we say some, of the adjectives in his anecdote as clearly the event still burns strongly in his memory. See if you can work out which bits I have slightly amended.

He recalls: "My best anecdote is about Phil scaring the 'proverbial' out of me during my 3rd degree. As Phil screamed out of the darkness "I demand the secrets of a master mason!" I very nearly 'lost control of my bodily functions'. I'm sure anyone else who went through that with Phil would say the same.

Phil was no doubt the best performer in the ceremony. His deep brown voice in the dark would test the bravery of anyone! We've all tried but no one even comes close."

Phil's life was not all masonry of course and, as many of us know, Bristol is a village and paths cross in many spheres of life. Paul Dawson sent me the following memory which underlines Phil's breadth of interests.

Paul writes: "I was lucky enough to first meet Phil 37 years ago when he was the Sensei at the Kumataka Judo Club, we had many fun packed training sessions and family camps to the Forest of Dean. To my great surprise our paths crossed again 18 years ago when I joined Freemasonry, only to find Phil as the formidable Provincial DC who was able to mentor me again only this time on a different type of floorwork".

Phil often portrayed himself as a big tough guy and would regale us with tales of rampaging crowds at football matches parting to go around him as they rushed across the terraces or short aggressive guys who suddenly found that they should be somewhere else when looking up at his bulk. He usually told me these stories when looking down at me from his great height and smiling!
However, when you knew Phil you realised that underneath that big gruff exterior lay a heart full of care and consideration. His support of his brethren and their families was unbounded and he would give of his time and energy without hesitation.

Phil was a kind, compassionate man and thoughtful mason and went to great lengths to try to engage the younger members and encourage them into office and to integrate them into the fraternity. Always ready to help and get involved.

Bob White well remembers Phil's help in local events.
Bob notes: "As organiser of the Province of Bristol exhibition stand at the Bristol Harbour Festival, I relied on brethren volunteering their time on a weekend to help man the stand.
Phil would say to me, put my name on the list and let me know what day and time you want me there! He was really good at communicating with the Public and promoting Freemasonry. I will always be grateful for his help and support over the six years that I arranged the Exhibition stand.

At another event on College Green called "Bristol Sports Day" he was helping on the stand, part of the deal was that all the exhibitors could be interviewed live by Sam FM Radio.
Phil said to me "Can I do that?" And off he went on the microphone talking live on Radio for about 10 minutes about Masonry in general.

He was such a nice man, always ready to give advice and encouragement and a font of knowledge on anything Masonic."

I can imagine them trying to get the microphone out of his hands!
We also had many happy shared events with our families. Most notably a year ago when Janet, Phil, Penny and I had four days in Arcachon including a visit to our friend Bernard's French lodge. I wrote Phil out a short response in French to our toast which he read out in his best Bristol/London accent. Everyone applauded and I'm sure that one or two of them worked out what he was saying.
But, outside of masonry, perhaps my fondest memory of Phil will be of the many games of golf which we shared and the happy hours of enjoyment I had searching for his golf ball in the long grass. Then sharing the glass of something in the Club House while he told me how long and straight he had hit the ball on the driving range and I told him how chipping used to be the best part of my game. We pretended to believe each other.

Phil and I usually saw eye to eye (well if I stood on a chair we did) but we had one source of disagreement which was football. Phil was an ardent Chelsea fan and I have been a lifelong Spurs supporter, however, we managed to find one area of common ground in a shared hope that Arsenal would lose.

He gave his heart and sole to masonry and as we all know was the Superintendent of Works of the Hall and instrumental in getting the Hall fit to reopen after the lockdown. A huge amount of work and another example of his capacity to get in there and sort things out.

I remember well that at committee meetings of the lodge when we were discussing difficult issues and decisions to be made we would all turn and look to Phil for the final word. In future we can't do better than to look into our hearts and say 'what would Phil have done?'

He will be terribly missed by all those in Bristol masonry and in particular by the Mark Province of Bristol which has lost one of its strongest keystones.
Phil's memory will live long with us and anecdotes and humour will arrive to fill the sadness which is just as it should be and just what he would have wanted.
Dear Brother Mark Master
I hope that you and your families are keeping well and safe. Penny and I are fine and ticking off the long 'to do' lists that we've had just getting longer for ages.

Well now that we are into the first phase of easing the lockdown, I'm sure that you are all absolutely clear on what you now can and can't do! Whatever it is it still doesn't include masonry unfortunately.

I'd like to thank the lodges for the return of the questionnaires and their proposals for how we can get Mark Masonry going again in September, if we have the opportunity. Clearly a September start is our hope but if significant social distancing and meeting limitations are still in place we may not be able to make a real start until 2021 and I would like lodges to start thinking about how that could be dealt with. We will get clear notification from Mark Grand Lodge on what we can or can't do before and after the restart. I am aware that UGLE have also been issuing guidance on what can or cannot be done in Craft meetings and some confusion has arisen because of this. I would like to make it clear that it is the guidance from Mark Grand Lodge that will govern what we do in our Mark lodges not that from UGLE.

The Province has been extremely active on the charity side since I last wrote to you. We have been supporting a number of food banks in the area and other charities who are providing services for key worker's and 'at risk' children. Obviously, this means that in a small Province like ours the coffers become empty very quickly. Our Provincial Charity Steward has written toyou requesting whatever help you feel you can give to allow us to go on supporting these essential charities and I would like to reinforce his request and personally ask you to help as much as you can. Whether this means a monthly donation as a number of us are doing or taking more numbers in the 200 club, it will all help. Speaking of the 200 Club you will have seen that we will be holding the next draw for the prizes via a Zoom meeting on the 27th May. An invitation to join the meeting will be sent to you all. In addition to the prize draw I am hoping that we can use this session for you to ask any questions you would like or make any suggestions for causes we might support. If you are looking for things to do to fill your days rather than watch a fourteenth re-run of 'Strictly come Bake-off' then can I recommend a study of the Mark ritual?! Many of you will have a copy of the latest Blue Book print of the ritual but pdf copies are also now available and can be sent out to you so that when we do return the ritual will be perfect and people will be fighting to give the secrets or the addresses.

I do look forward to seeing you all as soon as we possibly can.
With kind fraternal regards,

Stephen Rawlings
Provincial Grand Master

I hope that you and your families are keeping well and safe.

With the progression of the Coronavirus outbreak I know that it is difficult to think beyond the moment, but we need to start thinking and planning on how we will tackle the restart of masonic activities. We are currently hoping that this may be possible in September and consequently I have asked the Secretaries and Scribes to begin to plan your lodge'sprogramme of regular and emergency meetings as if this is the case.

Planning now will be vital as the Craft Lodges, the Chapters and all the other orders that meet in Park Street will be looking to hold emergency meetings in this period and it is highly likely that the rooms will quickly become over-booked. If we are not ready, we will miss out.

It will, of course, also give you all something to think about rather than sitting in your deck chair enjoying the sun, drinking too much wine and putting on those extra pounds which you were determined to lose when masonry was suspended.

Can I remind you all that the Province and the Grand lodge are here to offer help if any is needed? Look after your lodge brethren and let us know if there are problems. The Provincial Grand Almoner, W.Bro. Reg Bleaden, is happy to take if you have or know of any issues. Additionally, Grand Lodge have set aside monies from the Mark Benevolent fund to support not only members but other organisations which may need support to deliver essential services through this difficult time. I would welcome suggestions from members on worthy causes which we may be able to help and also ideas for things which we could do as masons in the community to make a difference.
It is vital that we all support each other through these difficult days so keep talking to each other, keep the masonry alive and look after yourselves and your loved ones.

With kind fraternal regards,
Stephen Rawlings
Provincial Grand Master
Grand Rank Appointments and Provincial Promotions during 2020

We are delighted to announce the following Bristol Brethren have received promotions in Grand Lodge and Provincial Grand Lodge;

Grand Rank Promotion
W Bro. Michael Huggins DPGM - Past Grand Senior Deacon

Grand Rank 1st Appointments
W Bro. Michael Oates - Past Assistant Grand Director of Ceremonies
W Bro. Martin Weaver - Past Assistant Grand Director of Ceremonies
Provincial Promotions
W Bro. Rick Salton - Past Provincial Grand Senior Warden

W Bro. Ian Millard - Past Provincial Grand Junior Warden
W Bro. Stephen Stafford - Past Provincial Grand Registrar
W Bro. Colin Lowther - Past Provincial Grand Sword Bearer
Bro. Nigel Curtis - Past Provincial Grand Standard Bearer
Bro. Ron Brunton - Past Provincial Grand Standard Bearer
The 2020 Mark Weekend Away

The 2020 annual Mark Weekend away was held from 6th to 8th March at the 4-star Voco Oxford Thames Hotel, Sandford on Thames, Oxford.

This was another highly successful occasion attended by 70 Brethren, their Ladies and friends.

An excellent choice of hotel offering very well-appointed rooms, good food, very hospitable staff, spa, pool and gym facilities and naturally delightful company. This is certainly a hotel that is worth another visit.
Dinner on Friday night was most enjoyable. We were then 'entertained' by our Provincial Grand Director of Ceremonies W.Bro. Ashley Hawkins who had prepared a quiz, with each table forming a team. The quiz comprised of a variety subjects, with each team having a 'joker' to play for double points. Coming after his success in the horse racing of 2019, it was interesting to see that it was the PGM's team that won the quiz, either because he had some influence over the question master, or he had surrounded himself with particularly intelligent people! Overall, a very enjoyable and fun evening for all.
Saturday started with the traditional hotel breakfast, after which many spent the day exploring Oxford or the surrounding areas. The city of Oxford is certainly not for cars, so we used public transport, many of us of a 'mature' age travelling into Oxford using our bus passes. The City Sightseeing Bus was a popular starting point, as the tour and accompanying commentary provided a detailed account of the architecture, the way in which the University has expanded and influenced the city's development and details of some of the well-known personalities who have had an association with the city. There is clearly more to be seen than could be managed in the relatively short time available to us.
On returning to the hotel we made ready for the evening; a drinks reception followed by the Gala Dinner. A raffle raised in excess of £300 for our Provincial Mark Benevolent Fund and this was then followed by an excellent disco, which by request had a distinctly '60s' influence. It was notable that from start to finish there were dancers on the floor for every piece of music played, proving that despite 'anno domini' we can still 'move it' on the dance floor! However, as a consequence, at midnight and beyond, there were a number of tired revellers and numerous aching limbs the following morning.

This really was a superb weekend, made so in no small measure by Brother Mike Page and his wife Lynn. Our sincere thanks to them for all their efforts in finding such an excellent hotel, in a most interesting location and in flawlessly planning the events of the weekend.
Mark Provincial Dinner 2020

The Annual Mark Provincial Dinner was held on 1st February 2020 at the Masonic Hall, Park Street.

As it was a date near that of the Chinese New Year it was decided that the evening would have a Chinese theme. The evening was attended by nearly 80 Ladies, Brethren and friends.

As usual, Freddy Eyermann and his staff put on a splendid meal, the proceedings being very well planned and arranged by Mike and Lynn Page. There were of course those who dressed for the occasion
This was a thoroughly enjoyable evening and an ideal way in which to start the social activities of the Mark Degree for 2020.
This last week seems to have gone quickly. The list of jobs to do in the garden which I've hardly touched for years is getting smaller by the day. Penny is hoping for a spell of bad weather before ourcaptivity is over so that some of the jobs inside the house get done!
I hope that you are all still keeping well and are also finding plenty to do.

We now have our list of members in each of the local postcodes and I'm going to contact some of the younger members in each area to see if they would be able to give some help if any of their local more senior brethren need assistance. Don't be surprised if you get a call because younger member in terms of our degree appears to mean anyone under 55!
Last week I gave you feedback from Grand Lodge on how the Grand and Provincial Appointments would be dealt with. The Provincial Appointments were recorded on the summons for Provincial Grand Lodge of which you all had a copy. However, I can now confirm the appointments to and promotions in Grand Rank which the Grand Master has be pleased to make this year. These were announced last Friday, and it gives me the chance to send my congratulations to the following brethren:
My Deputy, W.Bro. Mike Huggins has received a promotion to Past Grand Senior Deacon.

W.Bros. Michael Oates and Martin Weaver receive their first appointments in Grand Rank to Past Assistant Grand Director of Ceremonies.

My congratulations to them all.
I have now been informed by Grand Lodge that providing the September meeting of Grand Lodge can take place the intention will be to make the promotions and confirm all the first appointments. This will be a super day and I hope that as many of you who are able will make the journey to London to support our three brethren.
Lastly, I would like all the lodges to begin to consider how we can re-start our meetings, hopefully in September. Look at how many meetings you have missed, think about the candidates you have lined upand make a plan using the Grand Lodge guidelines. I'm anticipating that most lodges will want extra meetings so look at the year book and think about dates now. Craft Lodges and Chapters will be in similar positionsand the Hall is going to get very busy. If you want guidance and advice contact me or the Provincial Secretary.
I wish you all well in the coming weeks, keep in touch, keep well and as I said last week keep learning the ritual.

My very best wishes to you all. With kind fraternal regards,
Stephen Rawlings
Provincial Grand Master
Well another week gone.

I hope that you are all keeping well and are not too bored. I have asked the Provincial Secretary and the Registrar to put together a list of members in each of the local postcodes and to indicate the brethren most at risk or in need of help in those areas. I'm hoping that we can then enlist the aid of some of the younger members in each area to be contact points for any help that may be needed. To help this the Provincial Secretary recently sent out a note to you all asking those who have received letters as some of the 1.5m high risk individuals, if they would let us know who they are so that we can keep in contact and organise help. Please do let us know if you are on the list.

We have also had recent advice from Mark Grand Lodge on the management of meetings during and after the virus lock down. The Provincial Secretary will be sending these out to each Secretary and Scribe in the Province. These guidance notes will allow us to keep appropriate records during the suspension and to organise our meetings when the suspension is over.

However, the main point from it which I want to passon to you concerns Provincial and Grand Lodge Appointments.

Appointments and Promotions

Brethren selected for appointment to and promotion in Provincial Grand Rank assume their new ranks with effect from the 14 March 2020.

I will hold a smaller additional Provincial Meeting this year to carry out the necessary business and to congratulate you all on your appointments.
Grand Investiture Meetings
Even though the Grand Lodge Investiture meeting scheduled for June will not now take place.
Brethren receiving Grand Honours will be notified of their appointment by email and will assume their new ranks with effect from the date that the Investiture meeting should have taken place.

I wish you all well in the coming weeks, keep in touch, keep well and keep learning the ritual. You've all got so much time on your hands now that I'm expecting word perfect ceremonies in the autumn!

My very best wishes to you all.
With kind fraternal regards,
Stephen Rawlings
Provincial Grand Master
Dear Brother Mark Master,
Well here we are one week into our masonic lock-down!
I hope that you are all keeping well and communicating with each other. It's important that in this time of real stress and concern we support each other.

Particularly those brethren who we know are on their own or at high risk from the virus. Please take time to contact them and give what support you can. If you know of any brother who is unwell or in difficulty please let me, the Provincial Almoneror the Provincial Secretary know. The Mark Benevolent Fund in London is still operational and looking to help any brethren in difficulty in these unfortunate times. The Provincial Grand Charity Steward and I will be on hand to chase any needy causes with London.
With Park Street closed and Masonry suspended it is a strange feeling for us all to be moving into the Spring with no companionship. The Beaufort Lodge have a WhatsApp Group on which we share thoughts, silly jokes, even sillier jokes and also problems. Can I recommend to all the Mark and RAM Lodges that you consider a similar approach, it keeps us together as brethren and also lets us give support where needed. I'm sure that all the lodges have one of their younger members who has the IT savvy to set one up.

Lastly I must say how horrified I have been in the last few days to see the number of people totally ignoring the requirements for social distancing. It is vital if our health service is not to be totally overwhelmed by cases and unable to give everyone who needs it the care required. Please follow the advice and stay safe and please promote these vital measures as far as you can withothers.

My very best wishes to you all and I am really looking forward to us all being together again.

With kind fraternal regards,
Stephen Rawlings
Provincial Grand Master
Dear Brother Mark Master
Over the weekend I wrote a letter to you all suspending all Mark and Royal Ark Mariner Lodges for the foreseeable future because of the severity of the epidemic and its potential impact on our members.

We have virtually 50% of our membership over the age of 70, 60% over 65 and only 30% under 50. Based on the latest guidance that we had had from Grand Lodge on Friday no one over the age of 65 should attend a meeting and consequently I could therefore see no alternative than that the Bristol Lodges would have to suspend their meetings at the present time and until the emergency is over.

I believed that this was the right thing to do to protect our members. I forwarded this message to the Grand Secretary on Sunday to ensure that Grand Lodge knew what the Mark Province of Bristol was about to do. However, in the current emergency things seem to move faster than emails and before I was able to issue it yesterday things had again moved on.

The Prime Minister's announcement on Monday afternoon indicated how quickly the situation was deteriorating and called for self-isolation for over 70s and those with health conditions whilst also recommending that large gatherings and social interaction in enclosed spaces should not happen. A meeting was held to discuss the future use of Park Street and as you know from the letter sent out today from the Provincial Grand Secretary of the Craft that we made the decision to close the building and suspend all masonic activity not just the Mark and RAM degrees.

The UGLE and Mark Grand Lodge will I believe issue a joint guidance today which will confirm that for the whole of Masonry. This has been a very sad week, having to cancel the Provincial Grand Lodge meeting and to write to you now suspending Mark and RAM Meetings but I believe that it vital to do so to protect us all and more especially our older and less fit brethren.

Finally please note the last bullet point in the guidance that we should look out for and take care of our brethren and I would hope that you will all take time to ring or email your lodge members and good friends in masonry to make sure that all is well and offer help where needed.

My very best wishes to you all through the next few months, let us hope that we all meet safe and well when our lodges can once again open on our beautiful and happy degree. I promise you that we'll all have a big party to celebrate that event!
With kind fraternal regards,
Stephen Rawlings