As a precaution against the Coronavirus, please note that all masonic activities at Freemasons' Hall, Bristol will be suspended until further notice.
Charity Report - August 2020

First let me thank those Brethren who continue to donate money to support those in need, and I would like to record a special Thank You to the Brethren of the Brunswick Mark Lodge for their generous donation of £400 to the Bristol MB.

This month we have supported three very deserving causes with each receiving £500.

St Peter's Hospice
This charity has suffered a great loss of income through the closure of their Charity Shops, we have been instrumental in securing funding from the Mark Masters Hall to supply 'Sneeze Screens' to enable the shops to reopen. Our grant will assist with their cash flow.
The Matthew Tree Project
Well supported by our Craft Brothers with donations of Food Pallets, we have supplied £500 to help with the cost of transporting the food from the market to their clients in need.

Message from Mark Goodway CEO of the Matthew Tree Project
Hi Brian
This is fantastic. Thank you so, so much. The demand continues to increase at an alarming rate now that so many people are losing their jobs so this will help considerably.
Yes, the bank details are the same.
Thank you for your support.
Kindest regards,
Mark
The Young Carer's Support Unit for Bristol and South Gloucestershire
This organisation has suffered greatly from the restrictions as the carers have not been able to meet face to face with their supporters, our funds will help to provide the PPE that will allow meetings to happen.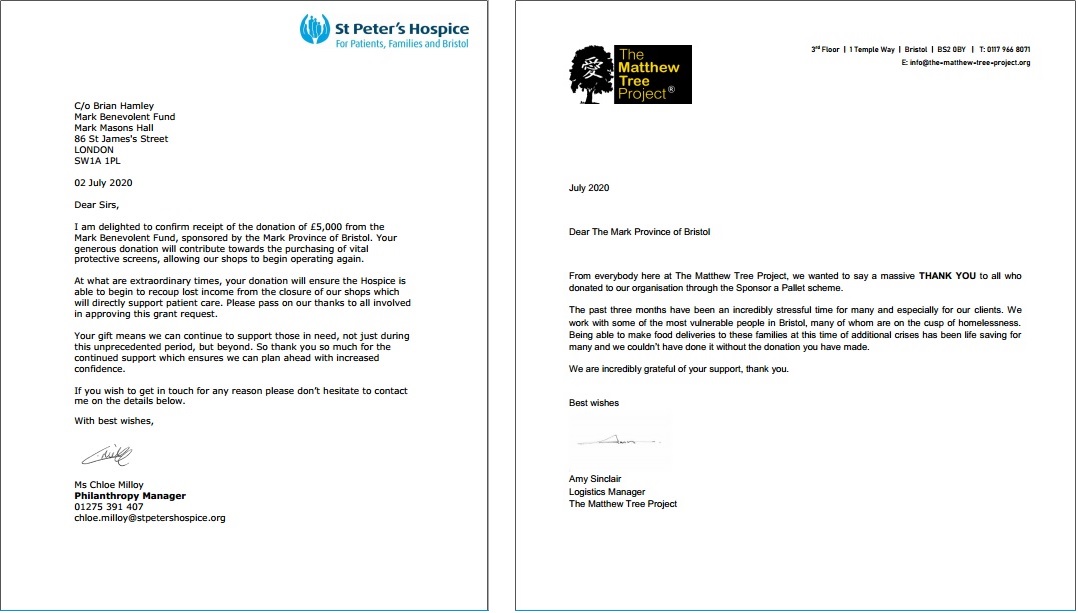 Charity Donations - June 2020

Brethren, we would like to thank those of you who have set up a standing order, or who have made a financial contribution to help others in their time of need.
The following donations have been made during June 2020;
Matthew Tree Project

In keeping with the Bristol Craft Charity donations, we have donated the cost of a food pallet - £325 to the Matthew Tree Project, our funds are to be used to help with the transport costs of delivering the fantastic grants from the Craft, apparently 15 pallets so far.

Bristol and S. Gloucester Young Carers Support
We have helped the Young Carers support group with a grant of £250 to cover an immediate need, and an application has been submitted to the MBF for a grant of £3000. This would contribute to the costs of additional IT requirements necessary to enable the support staff to keep in contact with the Carers.

North Bristol Food Bank

We have supported the North Bristol Food Bank with a donation of £300.
A number of email 'Thank You' messages have been received from all those that we have supported; the response from the Children's Hospice - printed below, is a example of the need our funds are helping to overcome.

Thank You for Your Continued Support
The Mark Province of Bristol have successfully sponsored a £5,000 grant for 'Sneeze Screens' for the St Peter's Hospice Charity Shops.

These are similar to the screens now installed in supermarkets and will enable the shops to open and help provide some of the missing funds the hospice desperately need.

"Thank you to Stephen Rawlings from The Mark Province of Bristol who visited the Hospice recently to provide us with vital face visors for our nurses. The Mark Province of Bristol have also supported us with a grant, allowing us to purchase specialist equipment for our shops which will allow us to re-open some of them and operate safely. The grant comes from the Mark Benevolent Fund at Mark Masons Hall."
https://www.stpetershospice.org.uk/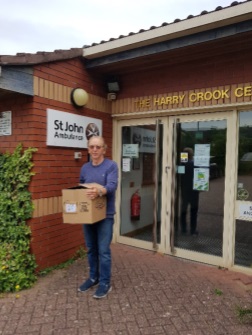 Our PGM delivering face shields for the key workers at St John's Ambulance - the Harry Crook Centre.

A big thank you to those who have set up standing orders to help others in their time of need.
Thanks to the recommendation of one of our Brethren, the Bristol Mark Province has donated £300 to the Matthew Tree Project.

We recommend that you visit their Website, where you will be able to understand the despair experienced by some people in the community and to appreciate the fantastic work done by this Project.
Bristol Craft Members also continue to support this Charity.
Brethren
On the 27th May we held the Mark 200 Club draw during an open Zoom meeting
The Lucky winners were
Bro. Jasbir Singh
Bro. Paul Sidney
W Bro. Michael Whitworth
The next draw will be held during the first available Mark/RAM meeting at Park Street, or as a Zoom Meeting in October.
FOOD BANK DONATION
Brethren
An amount of £500 will be donated to the Keynsham Food Bank this month, please inform the Provincial Grand Charity Steward if you know of a Food Bank near you that is in need of support.
Dear Brethren

On Wednesday 27th May we shall hold a 200 Club Draw, 3 numbers will be drawn, and 3 lucky Brethren will each receive £100, but the difference is that we shall hold the draw in front of a camera on a Zoom network. If you wish to take part in the Zoom meeting to see the draw details will be sent out soon by our Provincial Secretary.

Finally, it is not too later to purchase a number for the next draw, please contact me direct.
MARK PROVINCE OF BRISTOL FOODBANK DONATIONS
Brethren, because of your generous donations we have been able to support the East Bristol Food Bank with a £1,000 cheque and will continue to donate to other Bristol Foodbanks each month.
If you are considering donating to this essential worthy cause, please contact me to arrange payment.

Sincerely and Fraternally
W Bro Brian Hamley
Provincial Charity Steward
charitysteward@bristolmark.org

Dear Brethren
In view of the current situation, it is appropriate to give you an update regarding the '200 Club'.
The second draw for the '200 Club' was due to take place on the evening of the Canynges Lodge Installation meeting, and the third at the Harris RAM Installation.
However, these plans have fallen by the wayside due to the immediate cessation of all meetings in March as a result of Covid-19. In consultation with the Provincial Grand Master, we had intended to hold a draw at the Ernest Dunscombe Installation meeting in October and thereafter to select another rescheduled Installation meeting for the third draw. This plan has now become uncertain as a result of the recent statement by Prof. Chris Whitty the Chief Medical Officer for England, who has suggested that restrictions may continue for some months to come and it is therefore possible that we might not meet until the New Year
With this in mind, we now intend to hold a draw in May this year, which we think might be more interesting if the draw was conducted 'live online' by way of a 'Zoom' meeting. I am sure that quite a few of you have Zoom already, I can assure those of you who do not have it that it is easy to install and to use, as I appear to have managed it!
If the May draw is a success, we would then hold the third draw in October or November, again on Zoom.
Alternatively, should we be allowed to return to Park Street later this year, a draw will be held in the first available Mark meeting.
Finally, it is not too later to purchase a number for the next draw, please contact me direct.
Sincerely and Fraternally
W Bro. Brian Hamley

Provincial Grand Charity Steward
Bristol Mark Charitable Donations 2019 to 2020

During this year we have successfully sponsored a £56K grant from the MBF to the Great Western Air Ambulance Charity. The specialised equipment is on order from the manufacturers and will be officially presented when available.
We have donated a further £2,200 to local Childrens Charities as follows;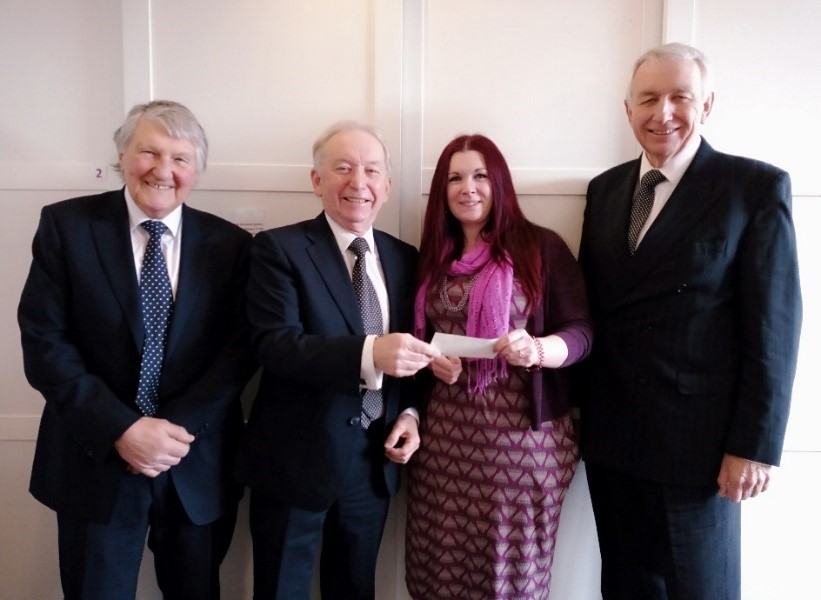 The Young Carers Support Centre for Bristol and South Gloucestershire
The PGM, DPGM and Charity Steward present a £400 cheque to Kara McKenzie the Young Carers Service Manager.
The Young Carers Service provides help and support to Children aged 8 to18, their families and professionals working with young carers in Bristol and South Gloucestershire.
carerssupportcentre.org.uk/young-carers/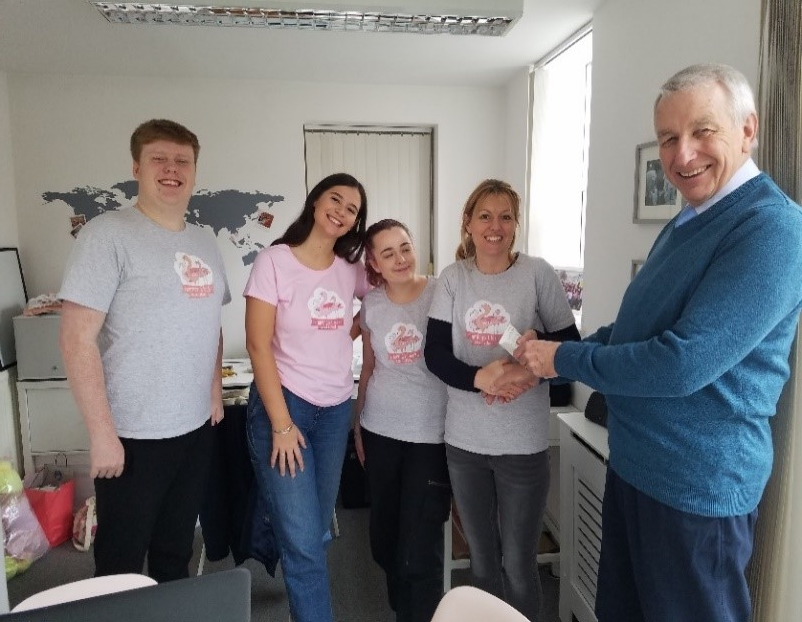 Flamingo Chicks
We also presented a £400 cheque to Bethan Guest the Flamingo Chicks Volunteer Manage.
Flamingo Chicks is an inclusive community giving all children, including those with disabilities and illnesses such as cancer, the opportunity to enjoy dance and explore movement alongside friends.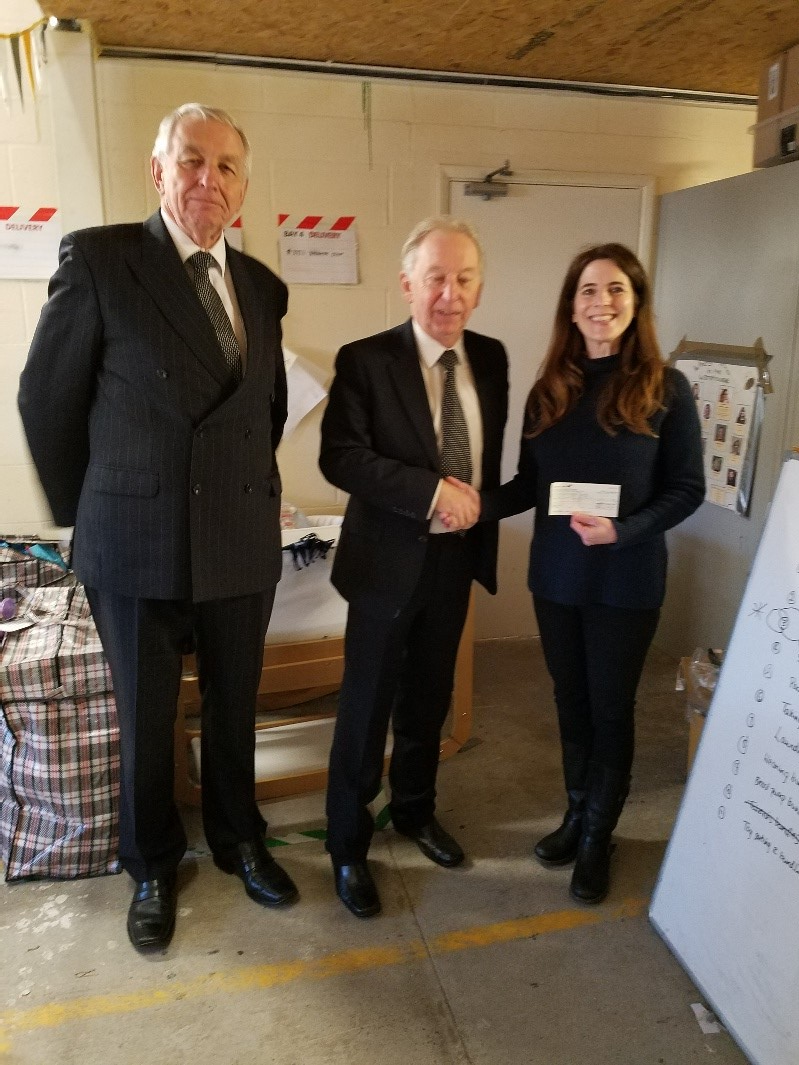 The Baby Bank Network / Bristol
A further donation of £400 was presented to Sarah Sutton the Baby Bank Network Administration Manager.
Baby Bank Network was set up in Bristol in June 2015 to help alleviate child poverty and support families at what may be a time of financial and emotional stress, whilst reducing waste and promoting reuse of items.
https://www.babybanknetwork.com/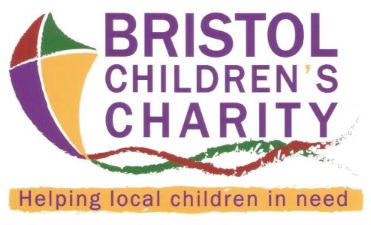 The Bristol Children's Charity
We were due to present a cheque for £500 to representatives of the Bristol Children's Charity at Park Street on the 19th of March, but, with the current pandemic, under the guidance of UGLE directives this was cancelled, and a BACS payment has been made.
https://www.bristolchildrenscharity.co.uk/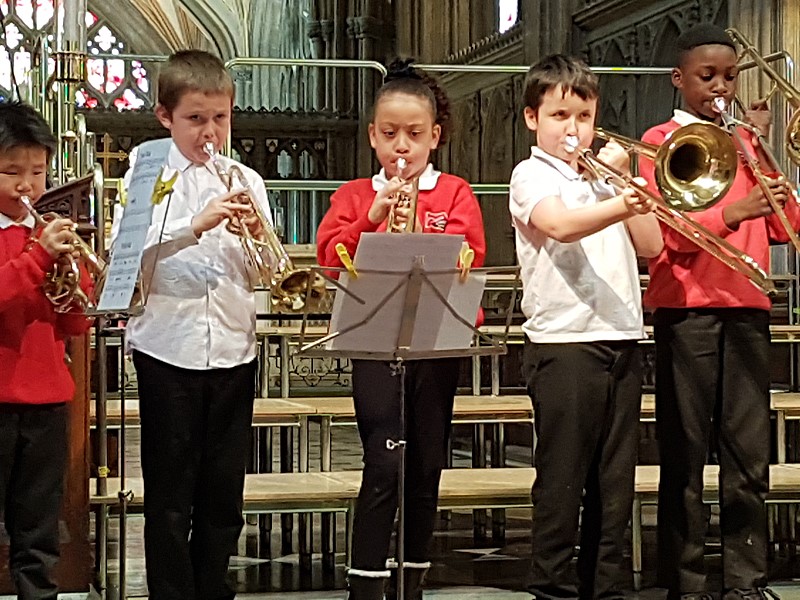 Preludes Bristol
Preludes Bristol is another Childrens Charity we were to present with a £500 Cheque, we have instead posted the cheque.
Preludes is a bold and innovative music project that has been running successfully since 2009 in several school areas in Bristol experiencing high levels of disadvantage.

The aim is to put classical music at the heart of every child's education and by doing so improve confidence, co-ordination, speech and language and benefit all areas of their learning.
https://www.bristolensemble.com/preludes/
For further information and for an insight into the work of these charities, we earnestly recommend viewing the webpages to see for yourselves some of the wonderful work carried out in our City.
We would like to thank all members of the Mark Province of Bristol for their support.
Message from the Provincial Grand Charity Steward

There are many people in this prosperous city of ours who need the charity of 'Food Banks'. A consequence of the onset of the Coronavirus Crisis and the 'lockdown', is that the supply of donated food is reducing and the number of persons in need is increasing
Whilst this situation continues, I would like to suggest a financial donation from those of us who are able to donate, without detriment to ourselves
Our lack of meetings in Park Street has reduced our own outgoings, and I propose to contribute monthly, the average cost of a meal and carparking, to the 'Trussell Trust Fund' via the Provincial MBF.

If you wish to join me in helping those less fortunate than ourselves, you can set up a monthly Standing Order - please contact me for details.
Sincerely and Fraternally
W Bro Brian Hamley PPGMO
Provincial Charity Steward
charitystward@bristolmark.org

At the turn of this century St John Ambulance had a mixed fleet of aged, worn-out vehicles. Post millennial ambulance legislation rendered most of the fleet redundant and this led to the development of the Crusader 900 Ambulance, a purpose built £40k vehicle jointly designed by the SJA and Renault.
St John Ambulance estimated they needed 100 Crusaders almost immediately and committed to raise £2m by public subscription. This was matched by The Grand Lodge of Mark Master Masons and the Mark Benevolent Fund committing to fund 50 of the Crusaders, and these were duly handed over in local ceremonies across the country during 2001/02, including Bristol.
By 2017, those vehicles had also worn out and needed replacing. Once again the Grand Lodge of MMMs, the MBF and the St John Ambulance charity joined forces to replace these 2001/02 vehicles and a £3m fund was donated, sufficient for up to for 52 state of the art ambulances and support vehicles, to be handed over during 2017/18. This latest donation marks the 140th anniversary of St John Ambulance in 2017 and the 150th anniversary of the Mark Benevolent Fund in 2018.
On 26th June, after a short Service of Dedication by St John's County Chaplain, the keys of a new ambulance were handed to His Honour Simon Darwall-Smith (Chair of the Avon County Priory Group of the Order of St John) by the President of the Mark Benevolent Fund, RW Bro Dr John Wright PGSW. The hand-over was at the Raleigh Road HQ of Bristol's St John Ambulance and was attended by PGM W Bro John Platts, DPGM W Bro Steve Rawlings and a plethora of Bristol Mark Masons and supporters.
PGM RW Bro John Platts congratulated and thanked the assembled Brethren for their fund raising efforts which had resulted in the purchase of two essential pieces of ambulance equipment: a) a portable defibrillator and b) a twin-pack mobile radio phone for use by the on-duty crew; both pieces of equipment had already been installed in the ambulance.
The St John Ambulance volunteers were very enthusiastic about their new vehicle and set about discovering its features, and there was even talk of "drawing lots" to see who should drive it first – but that may have been a degree too far!
And, to top off a lovely evening, we retired into the main hall and there enjoyed a refreshing buffet, prepared and served by our own Fredy Eyermann, who else could it have been?!
St John Ambulance can trace its origins back to 11th century monastic hospitallers who provided care for sick, poor or injured pilgrims coming to the Holy Land.
By the Late Middle Ages the hospitallers had been succeeded by the founding of the Venerable Order of St. John, a French order of charitable chivalry which has much in common with Freemasonry but to which it is not connected in any way.
The Order migrated England where it became The Most Venerable Order of the Hospital of St John of Jerusalem, and is now more commonly known as the Order of St John - an Order of Chivalry of the British Crown.
The St John Ambulance Association was set up in 1877 to teach first aid and provide on-the-spot treatment in emergencies, initially in heavy industry but then also in villages, seaside towns and suburban areas.
In 1887, trained volunteers were organised into a uniformed Brigade to provide a first aid and ambulance service at public events. In many parts of England, St John Ambulance was the first and only provider of an ambulance service right up to the middle of the 20th Century, when the National Health Service was founded. When there were far fewer doctors and hospital beds than today, St John Ambulance nurses looked after the sick and injured in their own homes.
The St John Ambulance Brigade and St John Ambulance Association merged in 1968 to form St John Ambulance, a single organisation providing both training and first aid cover, and is now the leading supplier of ambulance services and first aid training courses in the UK.